Characterised by a rich assortment of shades and realistic veining, the marble look wall tiles are able to transform the bathroom space into a real masterpiece of style that blends elegance and functionality.
Inspired by refined marbles and precious stones from both Italy and abroad, the MARVEL DREAM wall tiles, coordinated with porcelain floor tiles, offer countless options for the creation of spaces in which the undisputed elegance of marble in neutral tones meets the temperament of rare and precious quartz, gems and lapis lazuli from all over the world.
Introducing three bathroom proposals, in which Atlas Concorde wall tiles, in the shape of the Marvel Dream collection, tell tales of elegance, class and style, blending with the durability and resistance of porcelain tile to form a harmonious mosaic.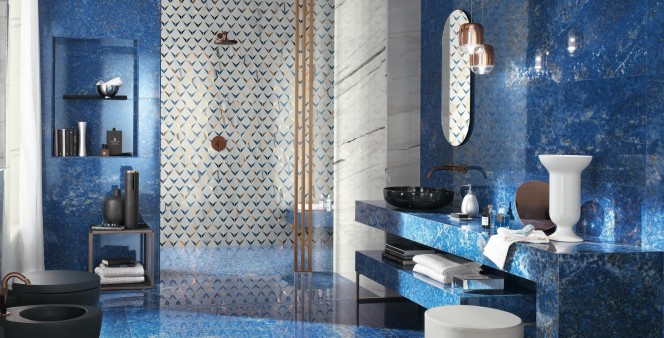 With this first option, the bathroom is filled with light, the varicoloured blue resonates and the mosaic tiles of the shower are bathed in gold.
Marble-look bathroom wall tiles take centre stage in this project, which revives the naturalness of the material and enhances it with exclusive colours, graphic details and precious inlay work.
Shades of grey for a sophisticated environment
With this proposal, the porcelain tile floor and marble-look wall are the ideal pairing, for a space that is hospitable and cheerful but also refined.
The veining that goes deep below the surface appears to generate flowing movement, creating a sensation of intense visual well-being with which to transport oneself.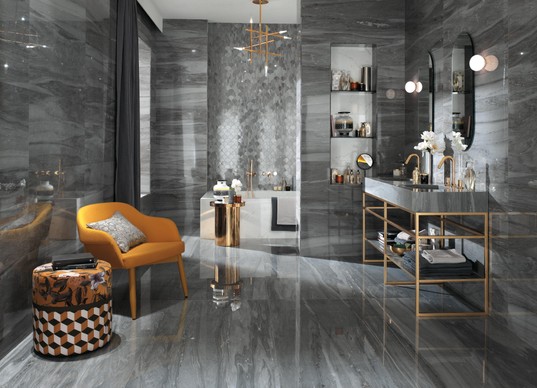 Black Atlantis and Brazil Green for a bathroom that transforms into a home spa
In this exclusive bathroom, Black Atlantis clads the elements in contact with water, while Brazil Green decorates the space, the rich and intense colour incorporating various shades.
The result is a balanced mosaic in which the cladding and porcelain tile communicate in a symphony of colours, lights, shapes and emotions.  Be inspired: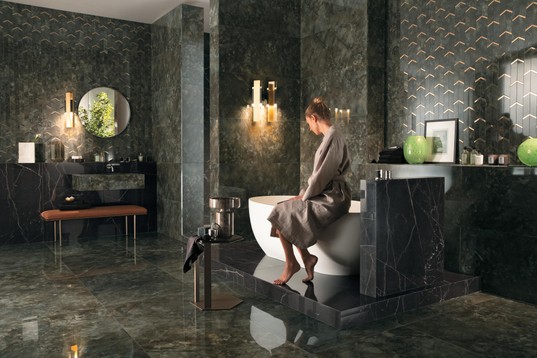 Source: www.atlasconcorde.com